July 18, 2020
Project Sophomore: Development Blog #3
In today's entry we are incredibly excited to preview the much anticipated Vampr Pro for the very first time, as well as the new expanded profiles as they will appear in Milestone 1.
Let's start with the new profile pages.
As you may have noticed, we've done away with the Audition, Biography and Favorites tabs in favor of the new expanded profile. In the expanded profile you will be able to access and enjoy all of the content you've come to expect from a Vampr profile in a single page. You can also take advantage of handy shortcuts such as adding a favorite artist from someone else's profile directly to your own. And perhaps most excitingly, and by popular demand, you can now link all of your other social handles to your Vampr profile in a beautiful and dedicated space.
We've also made editing your profile easier and better looking than ever. From the profile tab, simply hit Edit Profile and immediately start customizing your profile with all your latest tracks, pictures and artist information.
Did you happen to spot any locks in the Edit Profile page? Let's see what happens if you click on one…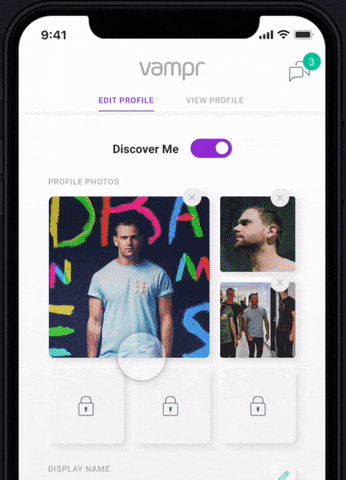 Introducing Vampr Pro
Vampr Pro will be arriving with the next version of Vampr and will include the following Premium features on launch:
◦ Make your profile matter with up to 3x more content
◦ Unlimited rewinds – undo your swipes
◦ Search the world and collaborate remotely
◦ More chances to connect per day
◦ Stand out from the crowd with the Pro badge
◦ Hide your profile and search in stealth mode until you are ready to connect
+
Over the past several months we've been surveying users on the Waiting List to get their feedback on Vampr Pro, and there was one feature which folks wanted more than anything else.
Today we are thrilled to announce that Vampr Pro will be launching with music distribution. Get your music on Spotify, Apple Music and all leading DSPs, and keep 100% of your royalties!
You can subscribe monthly and get all of the above with Vampr Pro for $4.99 or less. That's less than the price of a coffee for a game-changing service which will help elevate your status on the number one social platform helping creatives to find people to collaborate with, create new music and monetize their work.
If all of that doesn't sound exciting enough, we're pleased to announce that with Vampr Pro, what you sign up for is just the tip of the iceberg. We will be adding new features to the Pro suite every month through the end of the year, at the same price point you first subscribed. We will cover some of these future features in a later blog entry.
The arrival of Vampr Pro with distribution, in conjunction with Vampr Publishing, signals the transformation of our social network into a 360 self-service platform for artists. With our products and services, we remove barriers to help you elevate your professional musical life, faster and more efficiently.
So when can you expect to get your hands on the next version of Vampr and Vampr Pro? Much sooner than you think ?
Josh